Northwoods
Northwoods is a digital solutions company that helps smart organizations create a superior online presence through the development of effective websites, software and digital marketing services. Using a strategic approach, dedication to learning, problem solving abilities, and our unwavering honesty and integrity, we strive to become our clients' most trusted digital partner, helping them to grow and achieve their goals.
Focus on Micro Moments and Search Intent to Improve Your SEO Strategy
Digital marketers know that SEO is all about creating useful, unique content. But how can you determine the content that will help you rank in the top positions for your target keywords?
A successful SEO strategy begins with analyzing search results for specific keywords and adapting content according to your new understanding of those results. Discerning search intent and identifying related Google Micro Moments are parts of that process.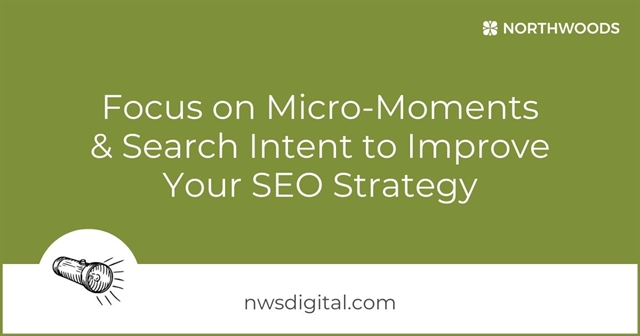 What Is Search Intent?
Search intent is the meaning behind the words users enter into Google's search field. It's what they hope to accomplish with their search.
Think about your target keyword list. If you type those keywords into Google, what are you trying to achieve? To find your business on a map? Buy a product online? Get information? Research? Answer a question? These are all examples of search intent.
Most experts split search intent into three categories:
Transactional keywords aim at a transaction or exchange, such as purchasing a product.
Navigational keywords aim at finding a specific product, brand or service. This includes looking for the location of a company, service, etc.
Informational keywords indicate that a user is seeking more information about a product, brand or service and is likely in the information-gathering phase of the buying journey.
Although search intent is a straightforward way to define keywords, Google defines search a little differently, first by breaking intent down into four categories.
Google Micro-Moments
Most SEOs focus on keywords related to purchasing. But Google wants us to look beyond transactional keywords – those related to the moment someone is ready to buy – to all areas of the customer journey. To do this, we must consider the micro-moments involved in everyday search. Google breaks down micro-moments into these key areas:
I-Want-To-Know Moments. A user is researching and not yet in purchase mode – ready for useful information, but not receptive to the hard sell.
I-Want-To-Go Moments. Users seek to buy local. They're searching for a nearby store or service provider.
I-Want-To-Do Moments. In the "how-to" moments of search, users want to do something, get help with something or try something new. These searches can come before or after a purchase.
I-Want-To-Buy Moments. They're ready to buy, but still might be searching for how or where to purchase.
How to Adjust Your SEO Strategy for Micro-Moments
Each keyword entered into Google displays different feature sets – images, videos, featured snippets, maps, ads, and more – on the results page. Each of these features align very closely with the intent (as Google perceives it) behind the keyword, or the keyword's micro-moment category.
When creating your SEO strategy, review your keyword list and determine each word's micro-moment category. Simply type the keyword into Google search and see what happens on the results page.
For I-Want-To-Know Moments, Google favors featured snippets and videos. It's all about creating content that informing  your potential customers without selling them too hard. Quality blog and video content work well with these types of keywords. The best way to target these keywords? Craft content aimed at educating customers and potential customers.
With I-Want-To-Go Moments, Google always shows the local pack, or map, results. This search results feature is all about helping users find local businesses. Google also shows local service ads for some I-Want-To-Go Moments. To target these keywords, optimize your Google My Business profile for search. Optimization includes accurate information, images, Q&As, and listings of your products and services. If you're a service provider, consider running Local Service Ads to improve your placement on search results.
I-Want-To-Do Moments are very similar to I-Want-To-Know Moments, in that Google favors content above all else. Depending on the keyword, Google may favor written or video content, but typically a featured snippet will be your first result on the search engine results page. Consider your current customers for this type of content development. What do they need to know now that they've purchased something from you? Help them out by creating  content and target keywords to retain your customers and make them advocates for your business.
With I-Want-To-Buy Moments, it's all about getting to the sale as quickly as possible. Google favors ads above all else when it comes to transactional keywords. Target these keywords with an advertising strategy. SEO and PPC are no longer two fields of practice. The most successful SEO aligns with PPC to create the best experience for potential customers throughout their journey.
Aligning your SEO strategy with Google's Micro-Moments is a great way to make sure your content ranks well for any keywords your customers search during their customer journeys. Group and categorize your keywords to get started.
If you need assistance crafting a successful search strategy, Northwoods' expert digital marketing team can help. Don't hesitate to reach out to us! Also, check out all of our blogs when you CLICK HERE